Over Thanksgiving, I travelled to Thailand with some friends. Our focus was the southern islands of Koh Pha Ngan and Ko Tao, but we started and ended in Bangkok. My friend, Diana, planned the trip around a party she had heard about called the Full Moon Party which, as the name would suggests, takes place once a month around the full moon. We travelled for 10 days total.
Bangkok
I'm not really a city person, but there was plenty to see in Bangkok. First, we went to the floating market - a smallish marketplace bordering a river. From there you take a water taxi which drops you back off closer to downtown. From the river, you can see a different, less developed part of the city.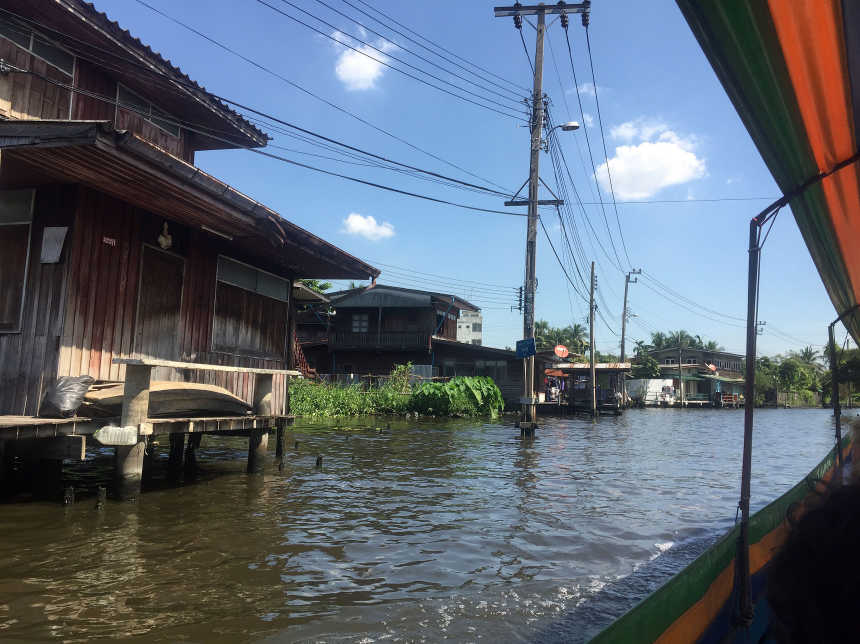 After the river trip, we intended to go to the Grand Palace but fell for the "it's closed today" scam in which some guy claiming to work for the "official travel center" says that the palace will open later on in the day but they can show you around in the meantime. We were later told this is a common scam so beware, and have a look for yourself. We had to postpone until the end of our trip. Instead we went to the Chatuchak Market, a huge marketplace selling everything you could imagine. Definitely recommend it, just make sure you set a meeting point or risk getting lost. After a short 24 hours, it was time to head to Southern Thailand.
Koh Pha Ngan
To get to the islands, you need to take a flight, then a bus and finally a ferry. It takes about half a day, so if plan on losing 2 days combined with the initial flight to Bangkok from the US. And don't eat that weird food on NOK Air! Instead, make a bet and whomever loses can eat the catfood biscuit thing.
We stayed at the Vagabond Hostel, nearby to the pier where you arrive. There is no "downtown" or central area of Koh Pha Ngan, so you're going to have to travel to wherever your destination happens to be. That means you will need to take one of the truck taxis, which are basically pickup trucks with caps that you pile in the back of - or rent a scooter. Nearby to our hostel, was the night market: a food market with great street food vendors and some small shops.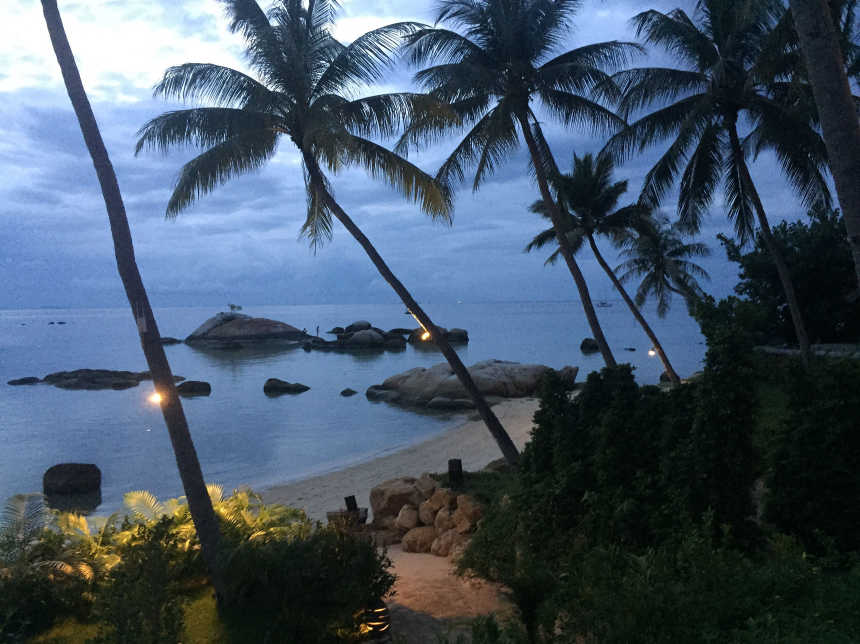 From what were told, the best diving spot in the Gulf of Thailand was a place called Sail Rock. Just a side note about drinking the night before diving: don't do it 😐. Sail Rock consists a group of rocks sitting about a 45min offshore. Around the rocks, coral and schools of various fish live on the walls. It descends pretty deep, so make sure you've got your PADI Advanced cert if you want to go down further. I've never seen so many fish in a single area at once. If you are heading to Ko Pha Ngan for anything other than drinking (why?), I would recommend going diving in Sail Rock.
Afterwards, we rented scooters so we could explore the rest of the island. In an effort to act like the clueless Western tourists we were, we went to ride some elephants. For such large animals, they are actually somewhat docile. They seem to care only about getting more food, reminding me of every dog I've ever been around.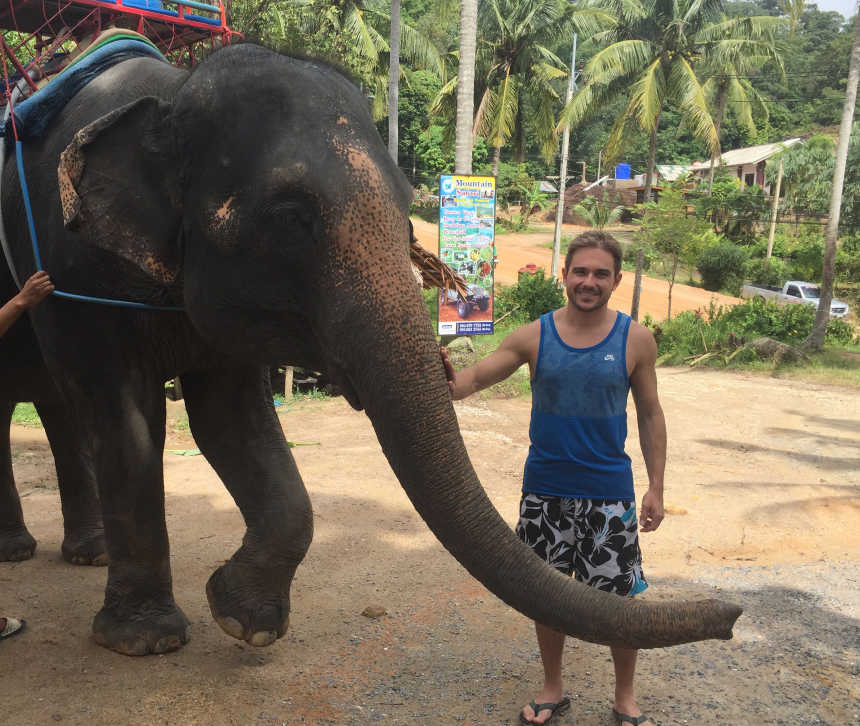 Close to the elephants, was a waterfall (Phaeng Waterfall). The guys in our group decided we would try to climb up as far as possible. It was a technical climb and honestly not worth it. I would recommend stopping at the touristy part of the path with the standing pools you can go into.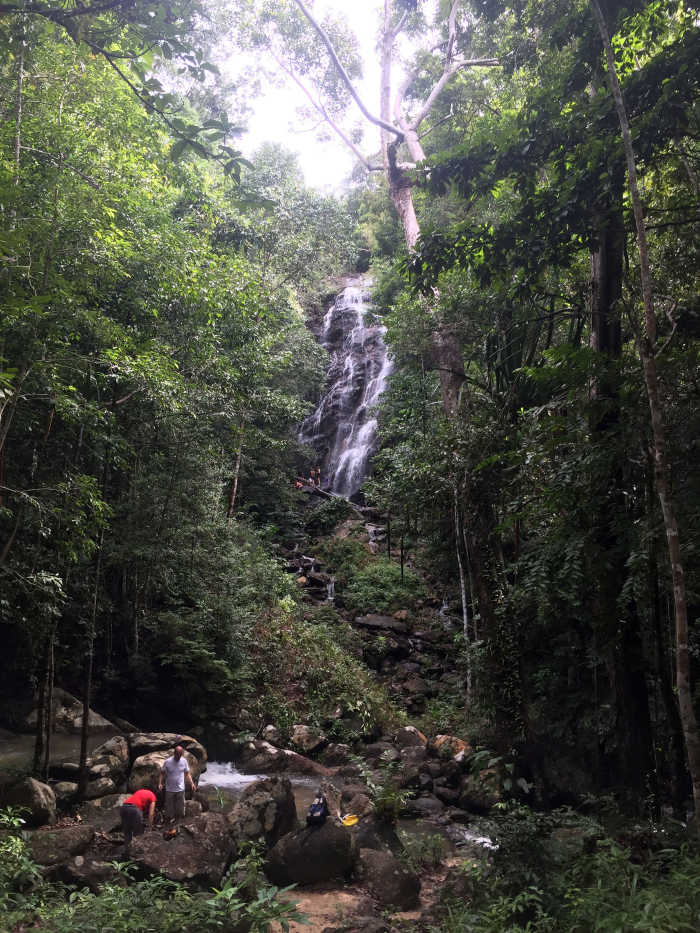 And finally the part we came here for: The Full Moon Party.
When I first talked to Diana about the trip, she told me about the Full Moon Party which afterward I researched myself. A quick summary: it's a rave/spring break-like thing that takes place on the beach once a month. I'm probably too old for stuff like this, but hey what the hell.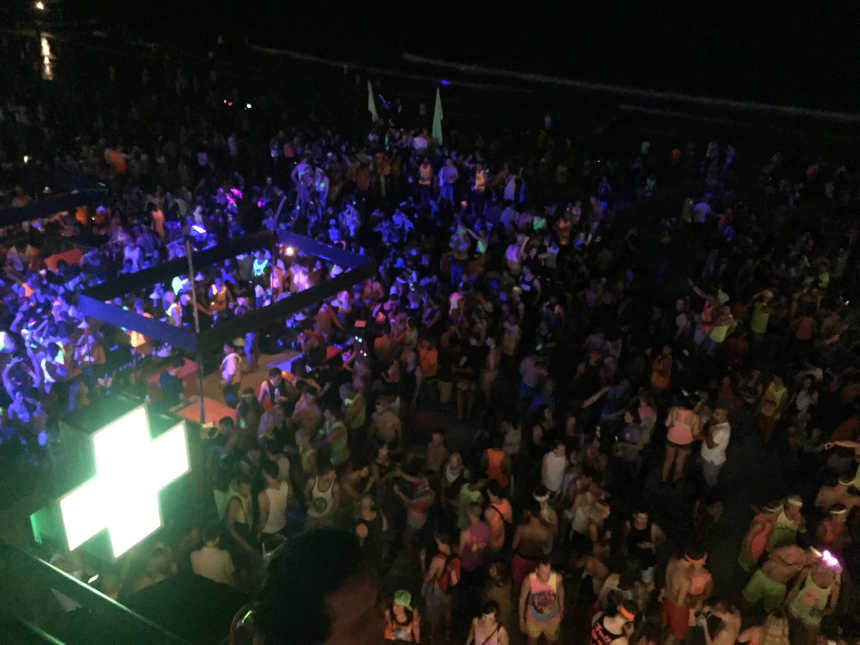 I have to say, it was pretty much what I imagined it to be: spring break without any rules. That might sound cool, but you kind of realize that some laws are there for a reason. The party goes until about noon the next day and it's customary that you at least make it until sunrise. With that in mind, we didn't arrive until midnight. Everyone was already drunk by then with a few people passed out on the beach. Most were still going strong, though, and I must admit, I had some of the best people watching I've ever had. In total, I'd say there were about 40,000, packed in groups around bars. There were some spectacles set up, like fire ropes and water slides, with more normal dance floors in various places. The fire rope was probably the most interesting, with drunk dudes getting burned.
Now is a good point where I should mention that the whole island was mostly dudes. Not just dudes, but Bros. After we left, I referred to Koh Pha Ngan as Bro Island. I'm not sure why it draws so many in, but if anyone is doing a doctoral thesis on the subject, this is your place.
We stayed until about 7am and then made our way back to the hostel. I must thank Thai Redbull for helping me stay up 24 hours straight.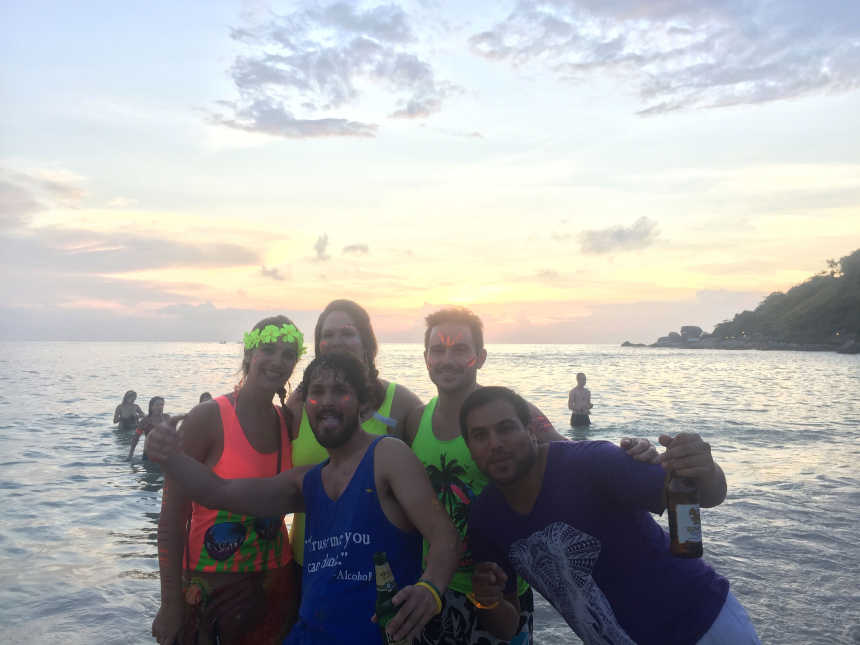 Koh Tao
We made our way via ferry to the neighboring island of Koh Tao (Turtle Island). A strange side note: there are no turtles on Turtle Island.
Compared to Bro Island, Ko Tao is sleepy, with only one real downtown area. We stayed a resort that seemed setup for honeymooners, although there weren't many because November is the low season for travel here.
Here we just hung out, being tired from our activities from earlier. The beaches on both islands are a bit disappointing, being full of refuse and flotsam. Thankfully, our hotel had a very nice set of pools to relax in.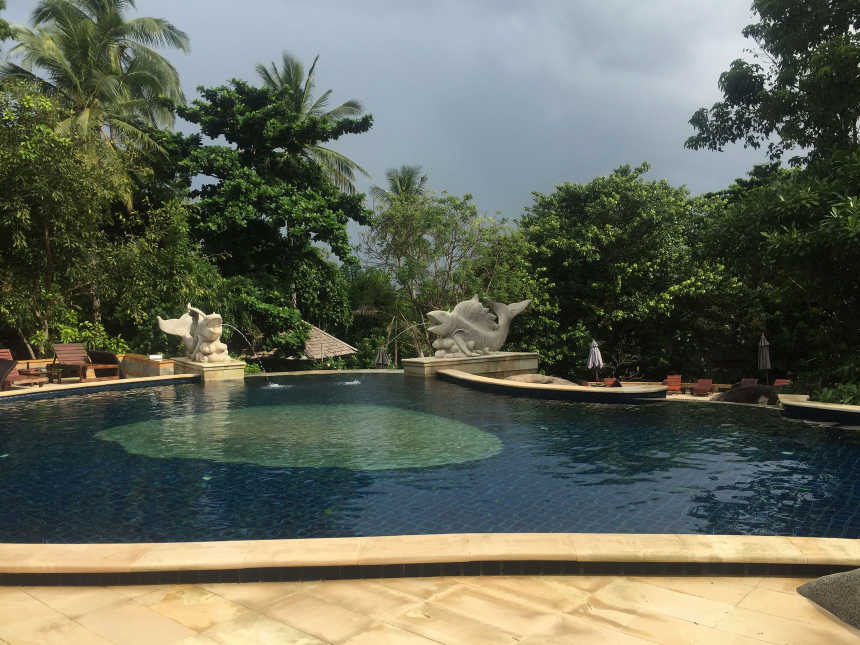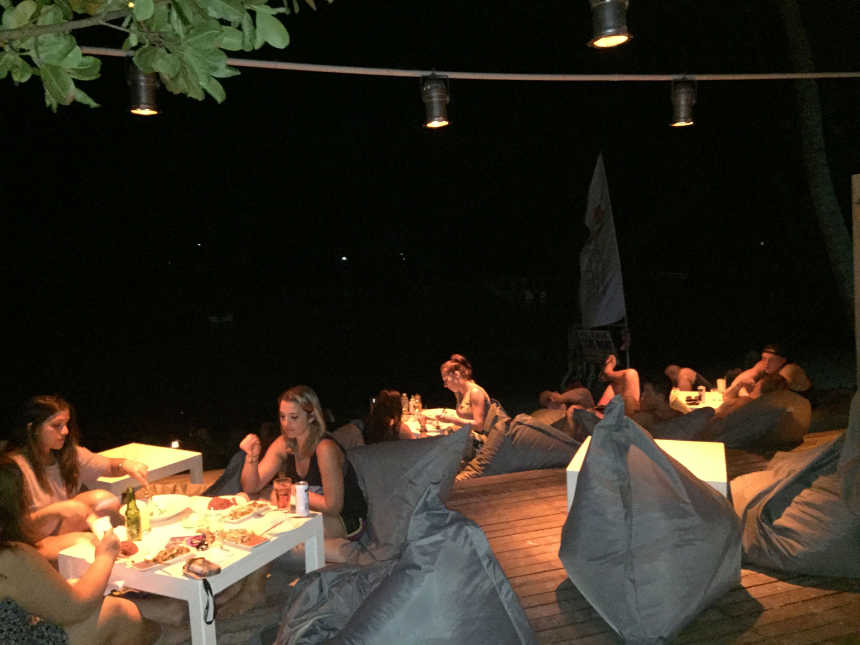 After Ko Tao, we headed back to the mainland via the same ferry/bus/plane route as before. Our last day in Bangkok, we visited the Grand Palace. I must admit I didn't pay much attention being exhausted from the trip. So, here is one photo: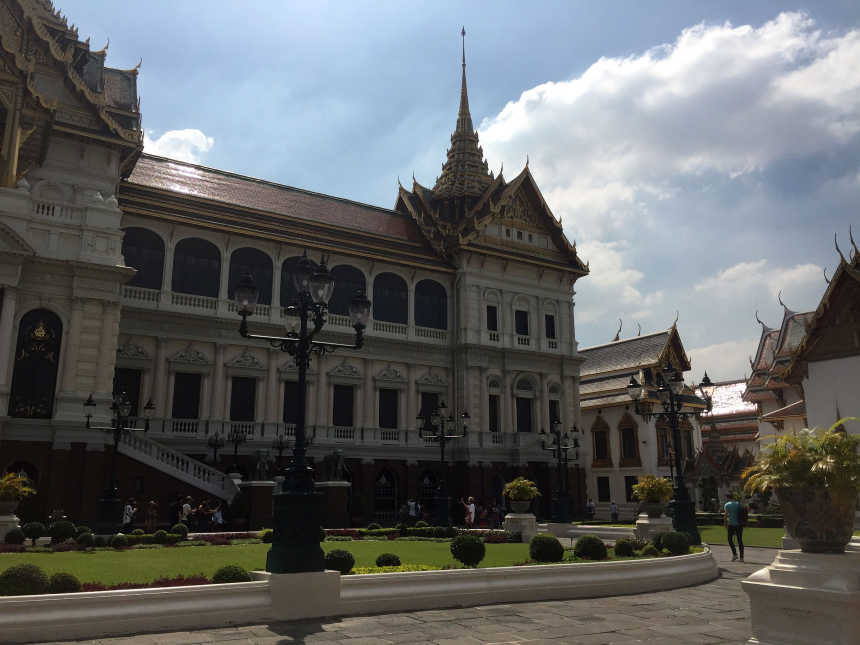 In short, I think you can safely pass on the Full Moon Party. My favorite parts of the trip were non-partying related, and I wish I had had more time to explore Thailand and visit some other places (like Krabi). Make sure to allocate plenty of time for traveling to any islands, as your going to lose at least half a day. This trip is definitely for the more adventurous travelers, as you won't find any upscale hotels or accommodations here.