With a shorter plane ride than Asia and a reputation for good diving, I've wanted to visit Belize for a while. I had originally wanted to make it to Nicaragua on the same trip, but reading about all there was to do in Belize, I kept this a one-country trip. I picked up a Lonely Planet guide and came up with a plan: to visit both Ambergris Caye (pronounced Key) and Caye Caulker as well as San Ignacio on the mainland. Instead of a bus/ferry, I thought taking flights would save time traveling between destinations. The local air carrier, Tropic Air, services a few cities across the country. After arriving in Belize City, I took a small, 10-person plane to Ambergris. I've never been on a plane that small before and it was a fun experience. You can even text and browse the internet in flight because the cruising altitude is only a few thousand feet.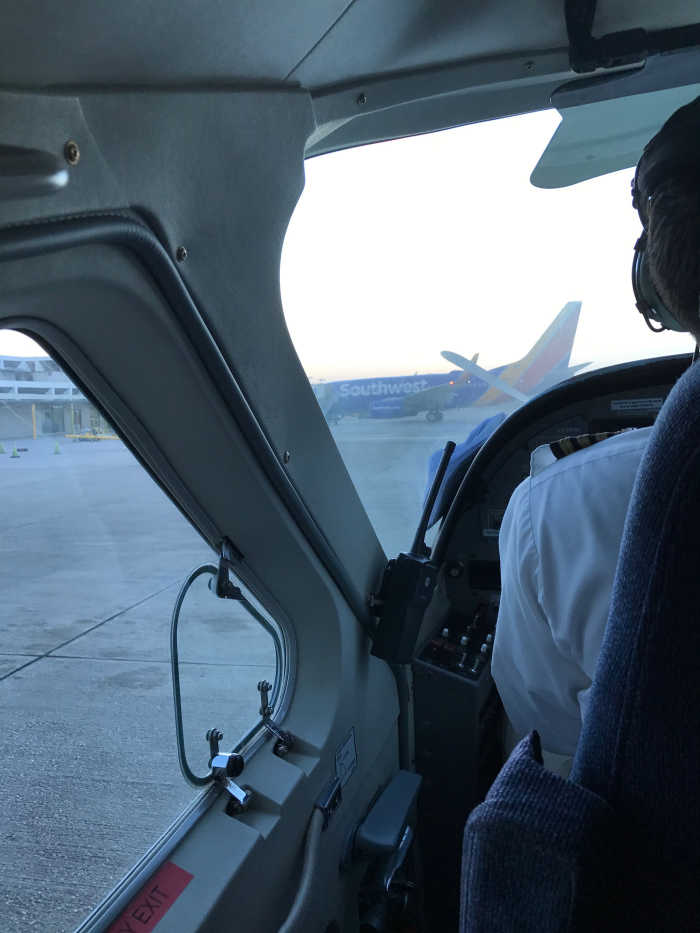 Ambergris Caye
San Pedro is the main city on this island and the top tourist attraction in all of Belize. The islands are attractive to divers as the barrier reef is about a mile offshore and there are plenty of dive sites. There's also not much else to do. There are a few bars and restaurants on the East side of the island but most were closed during the low season. The island has a few roads with cars but most people seem to get around using golf carts.
On the first full day I was there, I joined others from the hostel and we rode a golf cart to the western of the island to visit the so-called Secret Beach. It's a small strip of beach with a few bars. You also get a view of Leonardo DiCaprio's private island a few miles offshore. I should mention now that the beaches on both islands were pretty disappointing - don't come here for the beaches.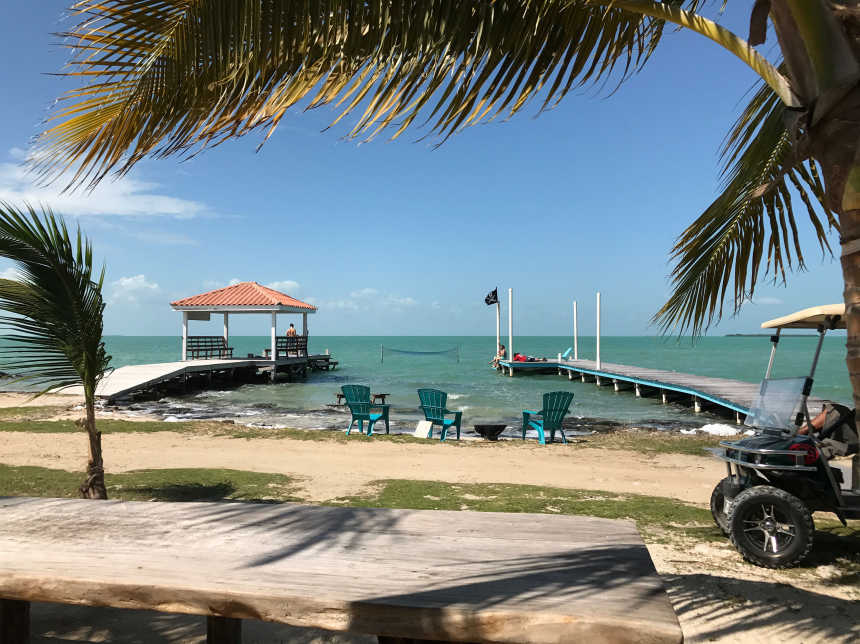 I stayed about 10 minutes north of the airport, right on the beach. This seems to be the best area in terms of things to do. Most of the restaurants and bars are concentrated in a small strip and you can walk to everything. Most of the bars are on the beach. 

Diving
I don't even remember the location of my first two dive sites. I saw some nurse sharks and some fish, though I have been to better reefs in this area of the Caribbean. Some other divers said that if you sit still the nurse sharks will actually come up to you like cats but I didn't experience that.
The Blue Hole
I had been told by multiple people that the famous Blue Hole wasn't actually that great but after talking to some others in the hostel who had done the trip, I decided to do it. If anything, I could at least say I did it and check it off my bucket list. The Blue Hole is quite far off the coast: a 2.5 hour boat ride east of the islands. From the boat, it doesn't quite look like the postcards.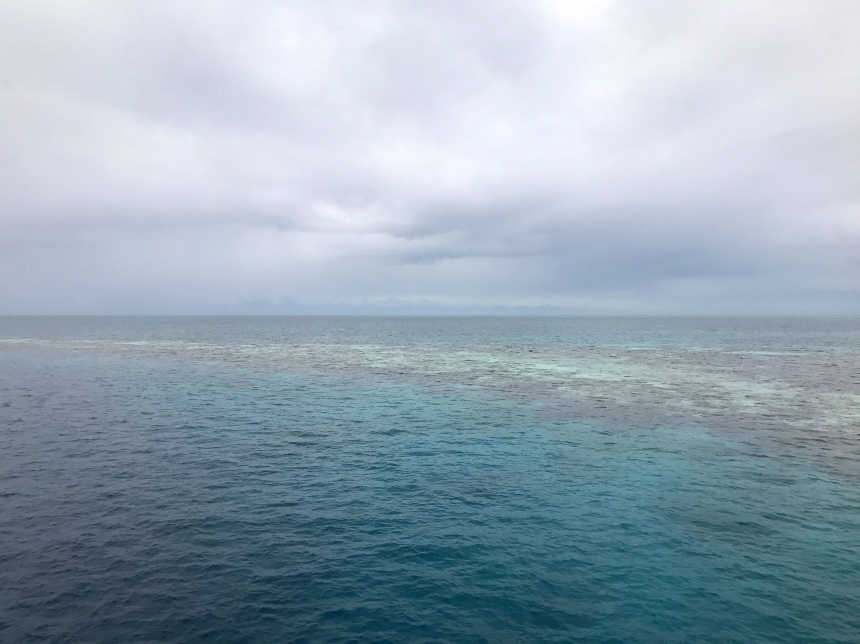 I should mention that I really should have had a diving camera for this trip, but I didn't get any pictures from below the surface. I promise to get one for the next dive trip.
The Blue Hole trip actually includes 3 dives, the first of which is The Blue Hole itself. There's not much life to see here but the wall itself looks really neat. You can also look down and see complete darkness. It's a very deep dive at 130ft (and some people went deeper), so you can only stay at "the bottom" for a few minutes. The hole is actually 350ft deep but diver operators only take people to where the cave widens and you can begin to see stalactites.
The second dive site is called Half Moon Caye and it's one of the best dives I've ever done. There is a ton of life on this part of the reef. The guide on this dive brought a spear and killed a few lionfish which he would use as bait to lure reef sharks. One of these reef sharks couldn't find the lionfish and ended up circling myself and another diver. We had to kick our fins at it to get rid of it. It was one of the few scary moments in my diving career, but I must admit, pretty exciting!
You can tour Half Moon Caye and see birds like Red-footed Boobies.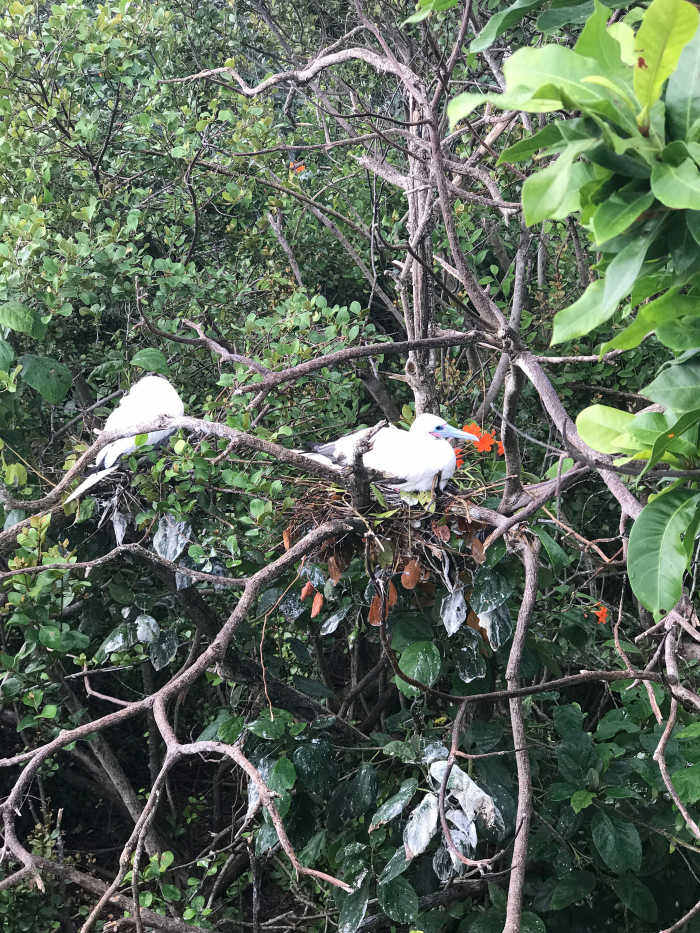 The third dive is also good, but after the second one, your expectations are pretty high.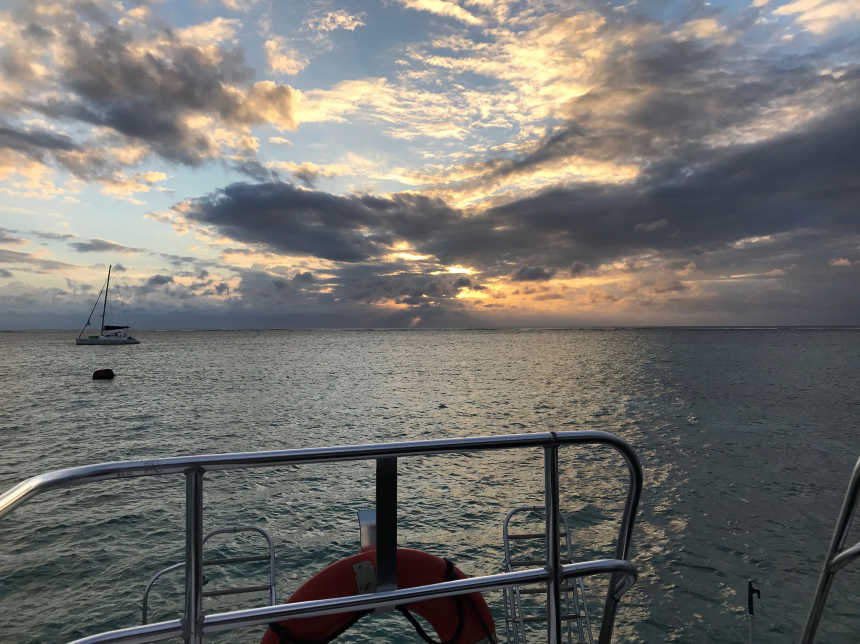 Caye Caulker
Caye Caulker is a very small, intimate-feeling island directly south of Ambergris Caye. I actually took a flight to the island and it was very close to the claimed 5 minute flight time. We literally got up to a thousand feet and immediately came back down.
There are only a couple of streets and no cars, everyone gets around by walking and riding golf carts. The hotels are tiny and independently owned, there are only a few bars and only one - the sports bar - is open late (1 am). The only real thing to do on this island is go diving and snorkeling.
I did a whole-day snorkeling trip which including a lot of snorkeling - five different sites. There was a lot to see including the largest turtle I've ever seen in the person. There was a local fisherman feeding it conch when we arrived. There are also plenty of stingrays that hang out at the bottom of these dive sites.
If you find yourself here, make sure you try the local breakfast favorite: the Fry Jack. It's basically a fried pancake that you put stuff in like an omelet.
San Ignacio/Unitedville
Next up was the visit to the mainland, in the Western part of Belize: the Cayo District. The major city in the area is San Ignacio, but I actually stayed 20 minutes east in a little village called Unitedville.
I was supposed to take a flight to San Ignacio, but it was cancelled due to weather. I ended up taking a ferry and then a "Chicken Bus" (so-called because people would bring all of their valuables including live animals onboard). There were others I had met in Caye Caulker, so it was a pleasant trip which only took a few hours.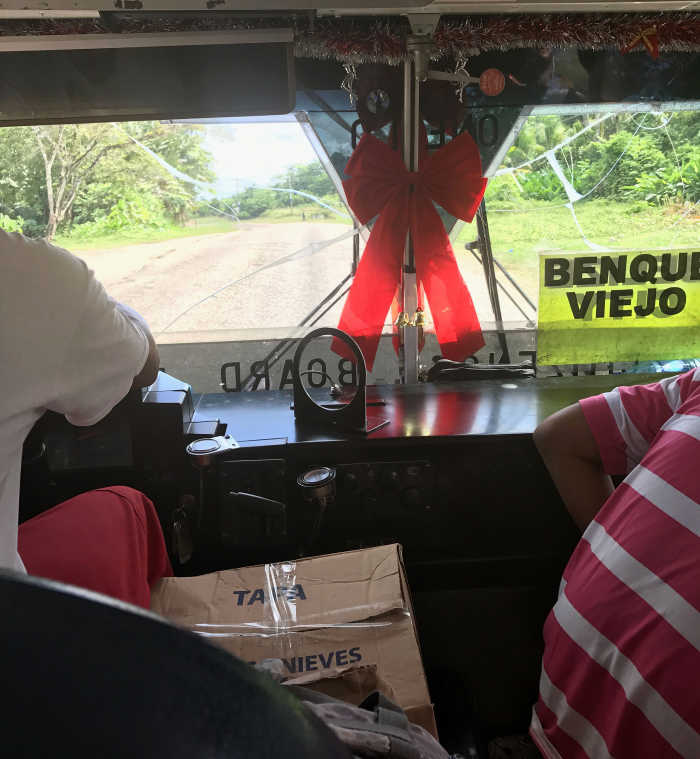 There are a bunch of adventurous activities to do around here, like caving and kayaking. The choice was limited, though, because of heavy rain and flooding. It downpoured for most of the first few days I was there.
I stayed at the Lower Dover hostel, which is a family-owned estate with several houses on the premises. They make wine and cook their own meals - it has a very home-like feel to it. They also have some Mayan ruins on the property which you can tour on your own.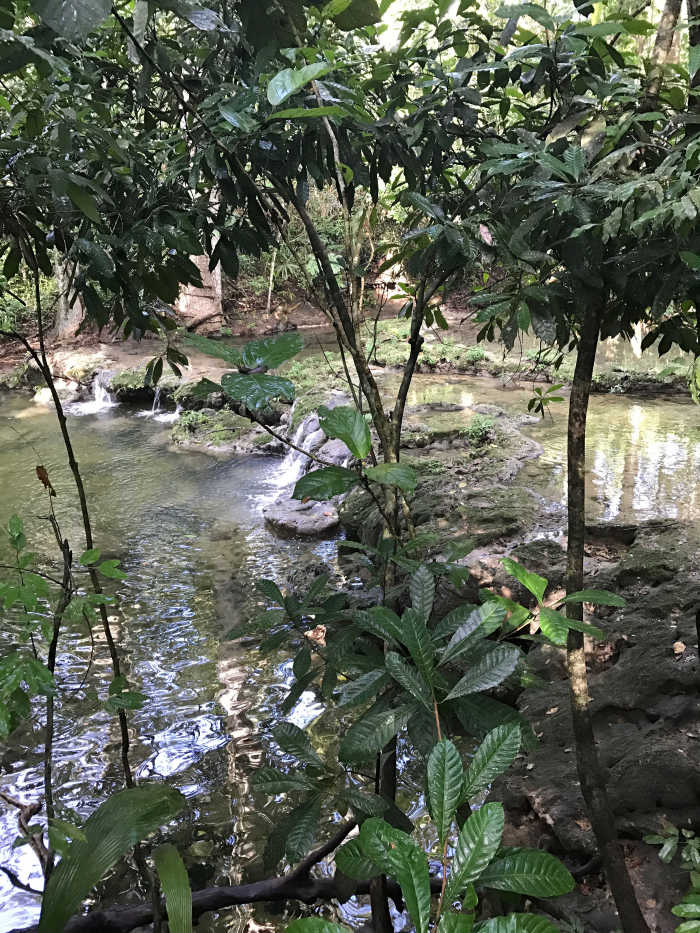 Actun Tunichil Muknal Cave
The main attraction of this area - and the one I was most eager to visit - is the Actun Tunichil Muknal Cave (or ATM for short). The weather, however, made this difficult as the cave was closed for flooding for days. Then, one day, I got lucky and they opened the tour.
The cave was discovered in the late 80s and has been left in its original state. That includes the Mayan artifacts like clay pottery and the skeletons of the people sacrificed in the cave. A few years ago, a tourist dropped his camera and broke a skull and ever since cameras have been banned. It's a real shame too because the cave was really cool looking.
Right as you start out, you need to cross a river by swimming across it. If you didn't want to get wet this isn't the tour for you. There are several more river crossings before you get to the cave entrance. At the entrance, you need to jump in and swim inside. There are several different paths you can take to get to the center of the cave where the Mayan remains are. Some of the tour groups have children so the guide will take easier paths in and out. The harder paths require some climbing and maneuvering in small crawl spaces.
You need to take off your shoes and wear only socks for the center of the cave. The park is worried about disturbing the remains and artifacts with shoes. Even so, it seems like having hundreds of people go through the cave everyday is bound to do damage to the cave. I'm not sure how long it will be open for under these conditions. It was definitely a great tour, though, so I would recommend going while you still can.
Tikal
Also available in the area, is a day tour across the border to Guatemala to visit the Mayan site of Tikal. It takes a couple of hours to get to the site including crossing the border. The walking tour visits the various temples closest to the entrance, including Temple IV where the ending scene in Star Wars Episode IV was shot.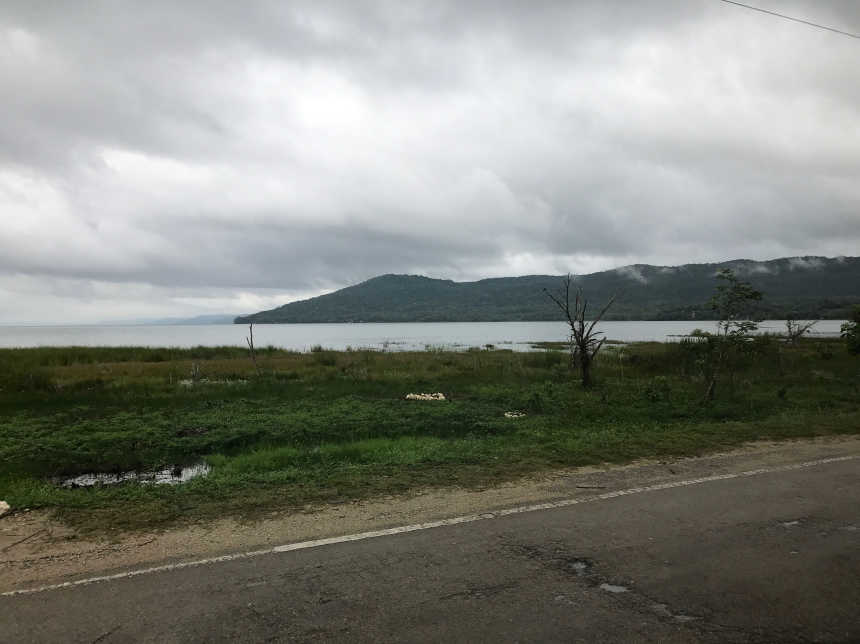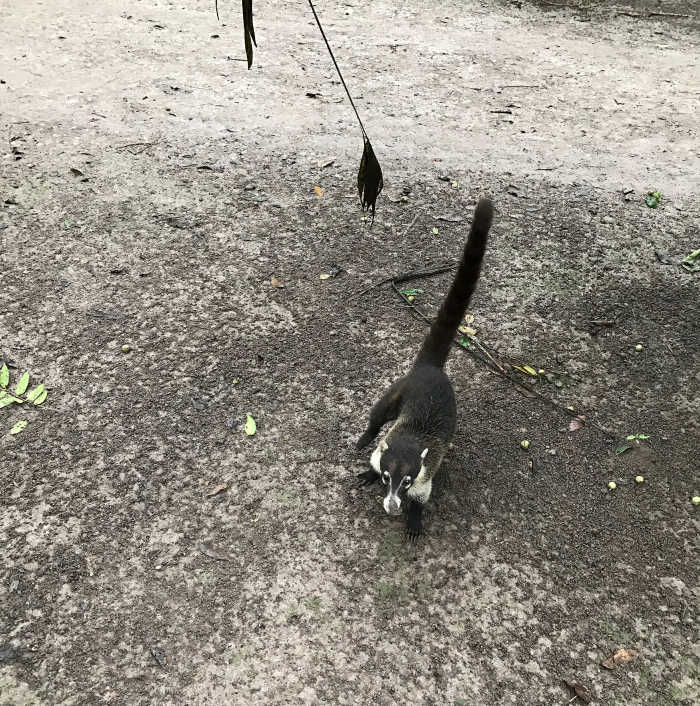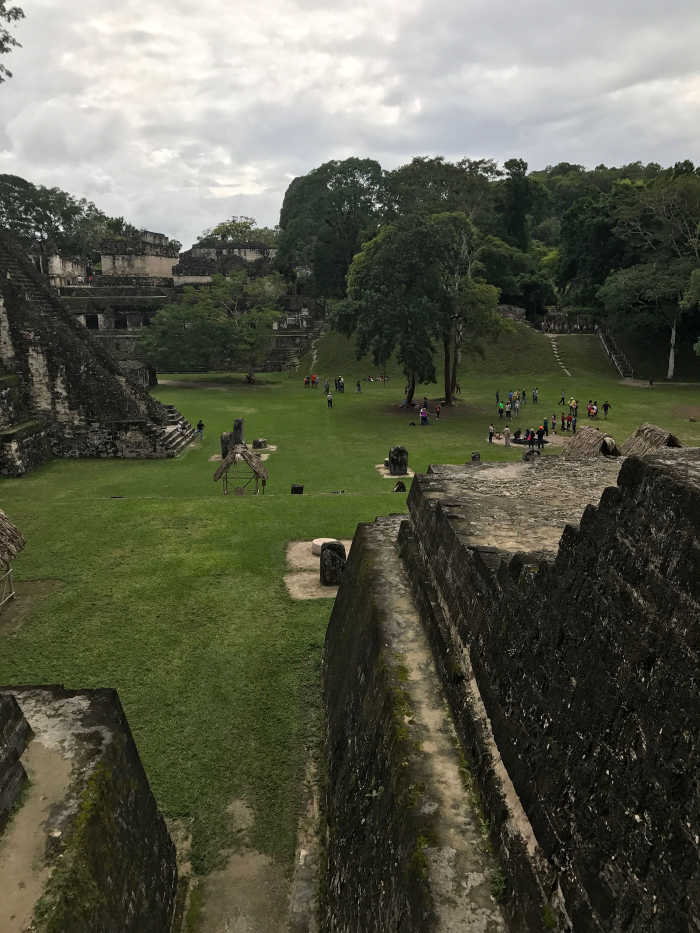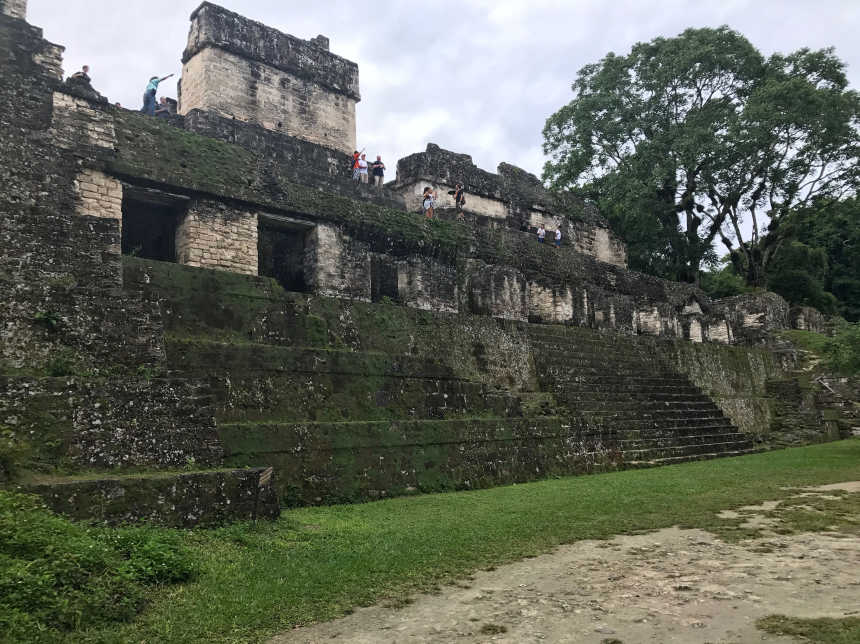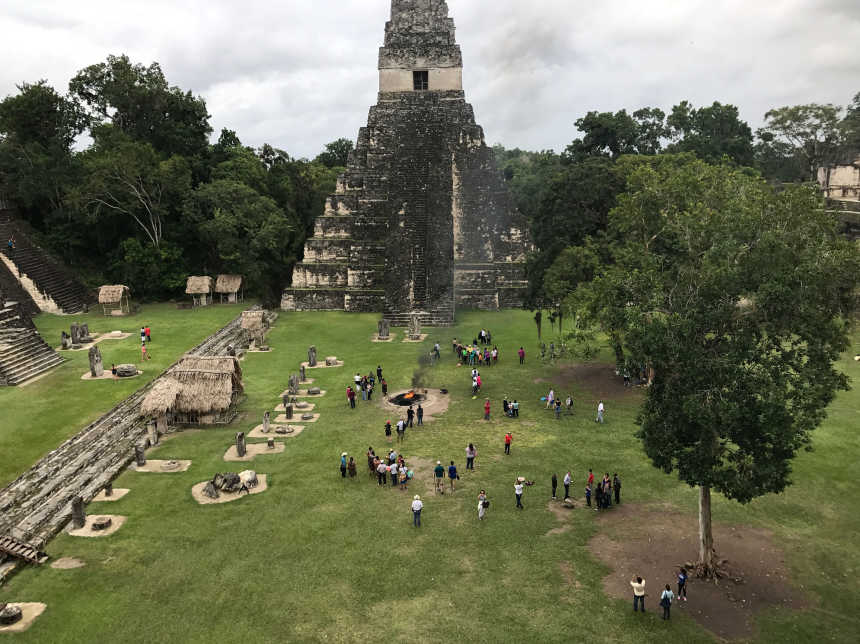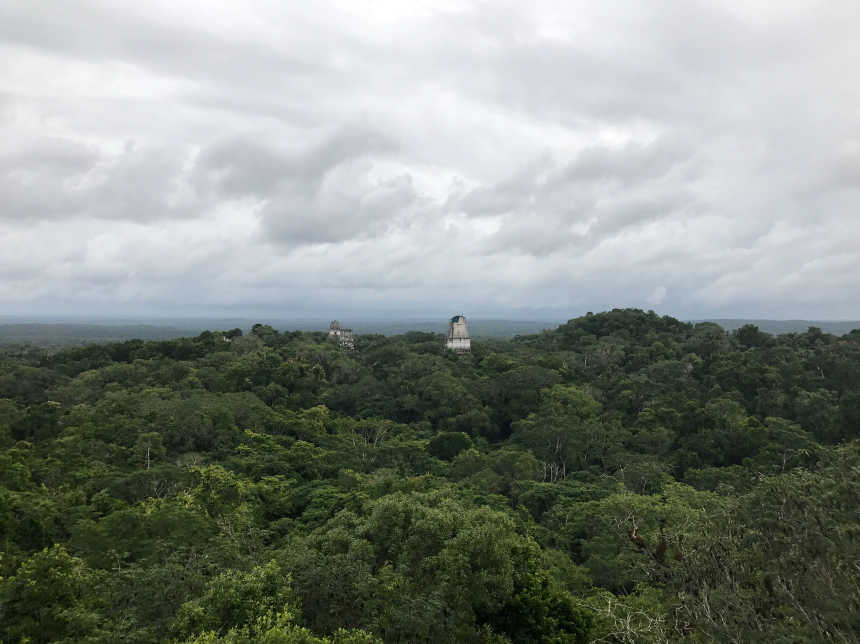 This is the shot from the top of Temple IV.
Other
I also planned on visiting so-called "Inland Blue Hole" and nearby St. Herman's Cave. Almost everything that could go wrong on the trip did. I took a bus on the way out which broke down after 20 min. After that, some people from the bus got a taxi to Belmopan where I was supposed to take another bus. I then learned that on the weekend schedule, the next bus wouldn't have come for a few hours, so I took a taxi down to the park which cost $25 for one way. The cave was closed due to flooding, so I only got a look at the entrance. I hiked to the other side of the park where the inland Blue Hole was and it turned out rather disappointing. I had been to cenotes in Mexico and this was rather unremarkable compared to them. On the way back, I was supposed to catch the hourly bus but two of them just passed right by me. I was told they won't stop if they're full. Luckily, I caught a tour group from Crystal Cave that was headed back in the same direction and they gave a ride back. I would recommend skipping the Inland Blue Hole and plan on taking a taxi all the way to St. Herman's Cave if you want to head there.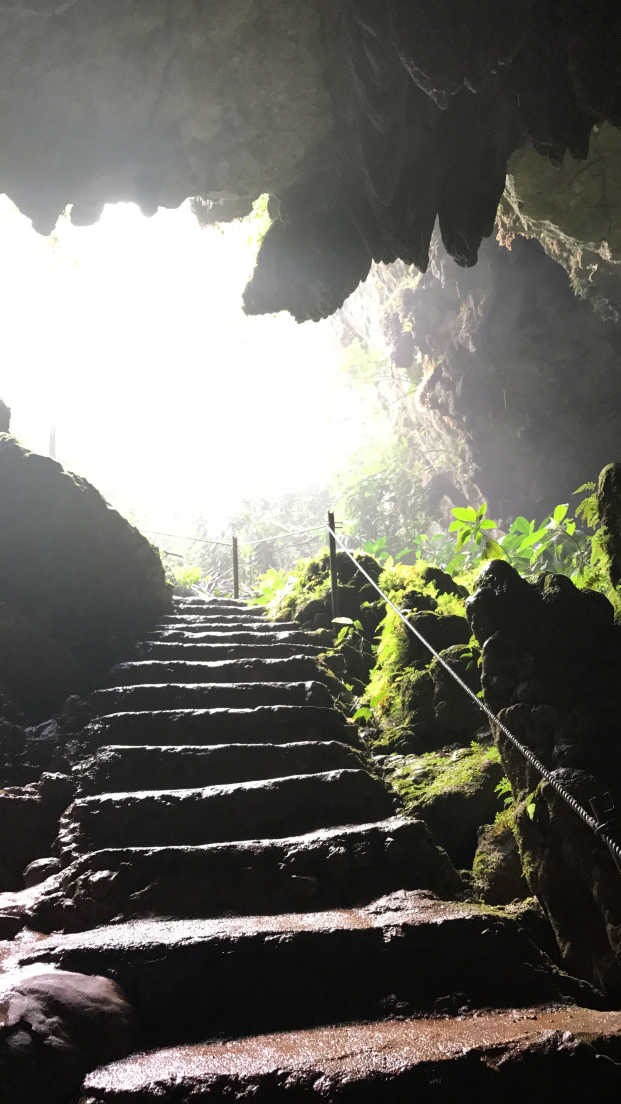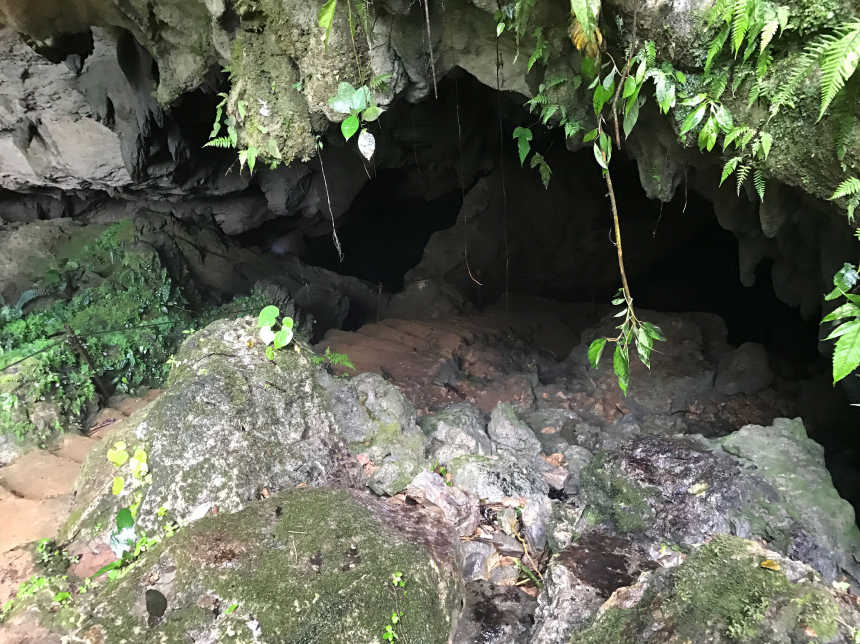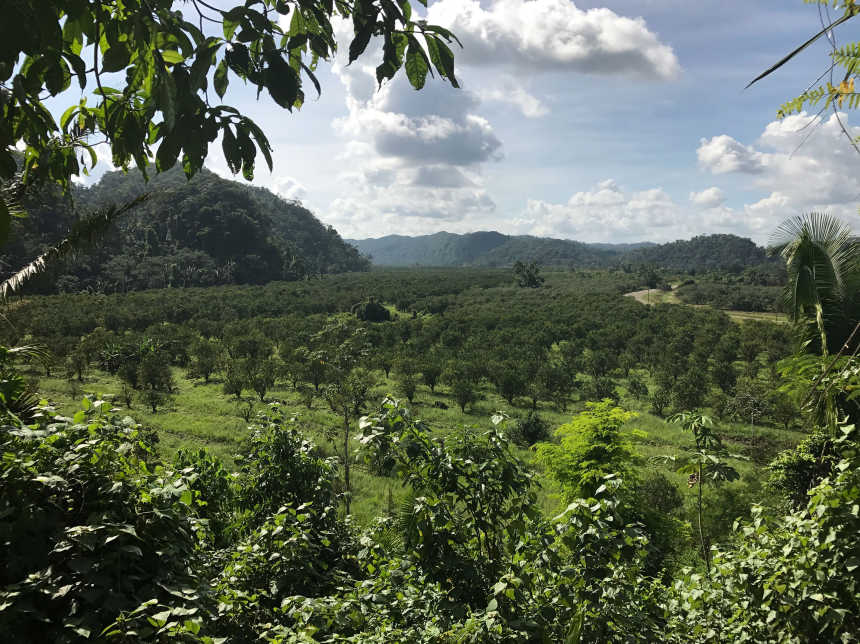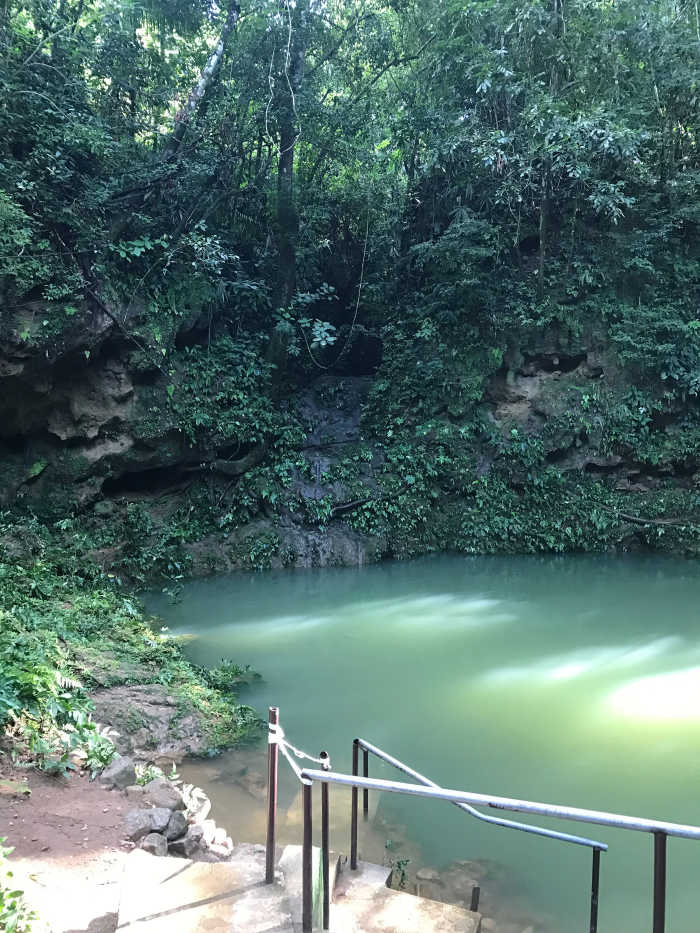 The next day, I had time to kill before my flight back to Belize City. I headed to downtown San Ignacio. First up, I did a tour of a local chocolate making operation where they explain the traditional method of grinding cocoa. Next, I headed to an Iguana sanctuary and got to hold a few. Those are both good time killers but you can skip them if you don't have time.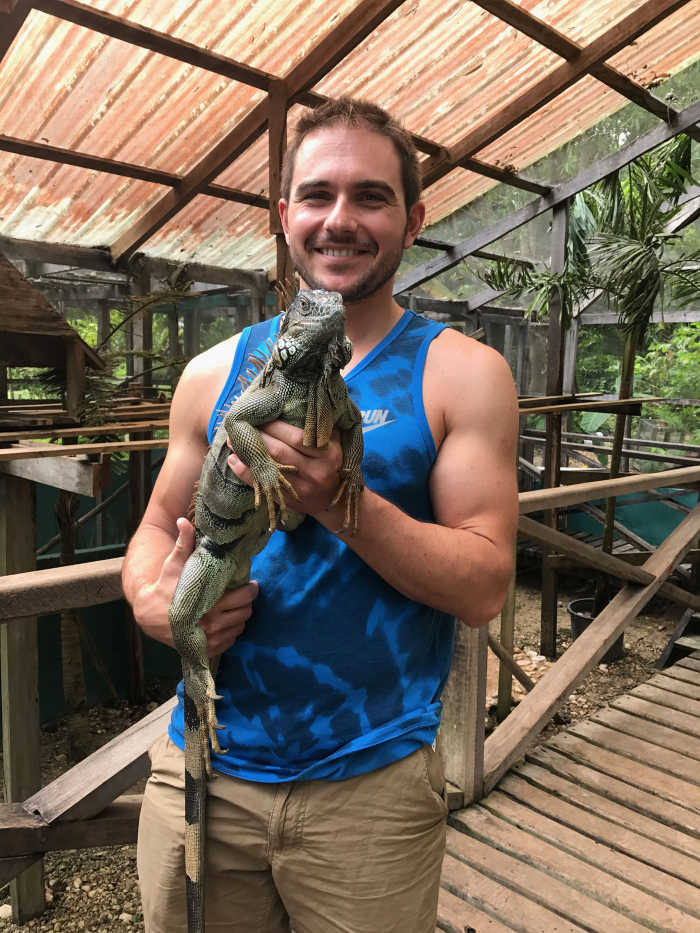 I took a taxi to the San Ignacio airstrip which is a single room office next to a farm. There were literally cows walking by where the planes come down to land. I was the only person on the way out of San Ignacio but we had divert to pick up another two people in Belmopan before heading back to Belize City and from there back to the US.
Belize had great diving and I really enjoyed the ATM cave tour. I really recommend doing The Blue Hole dive because of the stop at Half Moon key. Don't let people talk you out of it.